Portugal's cuisine is as rich and varied as its landscape.
The most distinctive feature of Portuguese cuisine comes from the sea. As you enjoy a simple grilled fish, always fresh like the seafood that abounds from end to end along the coast, you can be sure that you are in Portugal! Cataplanas, bouillabaisses and any other fish or seafood dish are also excellent choices.
For meat dishes, our main suggestion is cozido à portuguesa, a mix of meats, vegetables and various sausages, cooked in a delicious way. Portugal has excellent DOP (Protected Denomination of Origin) meats, from north to south . Many vegetables and fruit also preserve the taste of the old times, and some also have the DOP label, especially as many are produced organically.
Portuguese olive oil is of prime quality and is part of every dish, including cod (for which it is said that there are 1001 recipes!), which we excel at preparing and enjoying.
Each dish is matched to the right wine. The whole country produces wine and, while Port wine is famous, the Douro, Alentejo and many other table wines are no less superior.
And the cheeses! While Queijo da Serra (mountain cheese from Serra da Estrela) tops the bill, all the cheeses from Centro de Portugal, Alentejo and the Azores are delicious.
The sweets, whose roots go back to the many convents where they were originally prepared, even today make us "give thanks to heaven". And a pastel de nata (custard tart) is a must. It is delicious with coffee, which we drink in the form of espresso.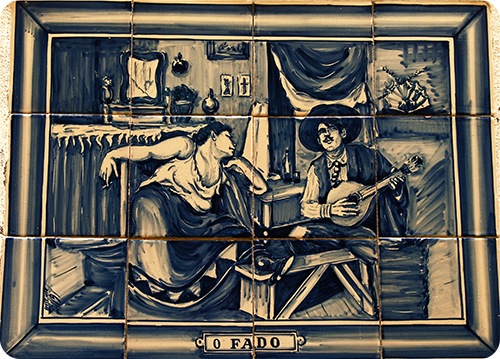 FADO
A shawl, a Portuguese guitar, a voice and heartfelt emotion. This simple image could describe Fado, a recognised symbol of Portugal, and a music of the world that is genuinely Portuguese.
At its heart is sentiment, lost love, longing for a departed one, everyday life and triumphs. After all, the vicissitudes of life provide endlessly inspirational topics.
They say fado is fado, that it is ingrained in the Portuguese soul, with no distinctions to be made. Even so, some dare tell a professional from an amateur singer. Professionals earn a living from their voice. Amateurs sing the Fado also known as vadio (vagabond), and this has different qualities, although longing is still present as a main leitmotif. Making a comeback in Lisbon's working-class districts, fado vadio singers are never invited… they invite themselves and do not have a set repertoire. In Coimbra, fado has particular characteristics and is sung by students.
In 2011, UNESCO granted Fado World Heritage status, as an urban Lisbon song symbolic of the city and the country.